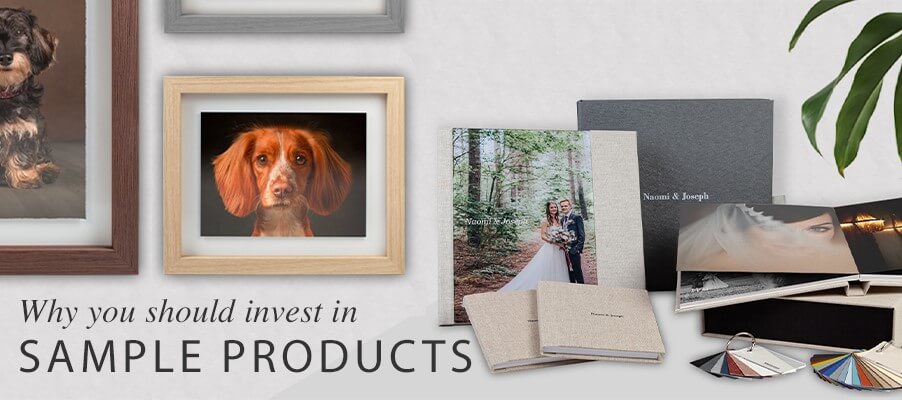 Why should you invest in sample products?
You might be wondering, what are the benefits of sample products? How can they help your business and what effect do they have on clients? We'll we're here to help! Here's a quick guide to help you discover the secret power of great samples.
Show off photography packages
Explaining exactly what's in your photography packages can sometimes be overwhelming for clients to understand. It can be tough for clients to visualise all the products they receive and why they're paying for these products. Creating a sample version of your complete photography package and showing it to clients can help them understand what they're paying for and realise just how much they'll be getting!
Secure your sales
Showing sample products to clients during consultations can make the difference between upselling more products to them and them going for the basic package you offer. A sample product by Loxley Colour is handcrafted by our expert team so you can show clients just how much care goes into their future keepsakes. When clients see your products physically, they can visualise their own images in these layouts and can think about where in their homes they'll keep their albums or where they'll hang their framed print or wall product, making them more likely to upgrade their existing package.
Let the quality speak for itself
Loxley Colour sample products are made with the exact same processes and care as non-samples. This means you know you're receiving a handmade, high quality sample. When you let clients see the quality of these samples for themselves, it helps them gain a better understanding of the product itself, whether or not it suits their personal tastes and it helps them understand your pricing. Remember to mention that your products can rarely be found on the high street! That information plus seeing the products for themselves will mean clients are impressed and have a better understanding of the products you're offering!