It's by far the most luxurious option in the Loxley Colour Bellissimo albums collection, and it's been designed to appeal to those high-end wedding clients. The Bellissimo Harris Tweed is a traditional, quality album featuring a truly iconic cover.
Here's everything you need to know about the Bellissimo Harris Tweed album.
Making it unique
Like many albums in the Bellissimo collection, the Harris Tweed album can be customised to suit the client. Choose from two colours of this well-known, quality material for the album's cover.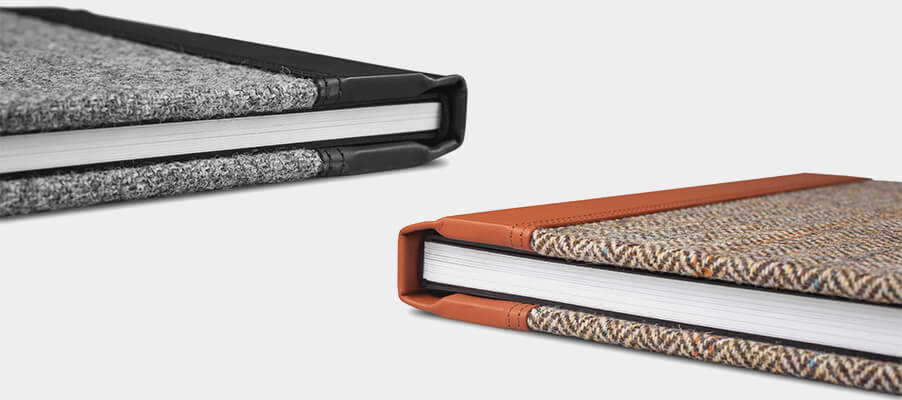 Both colours of Harris Tweed are paired with a complementary Leather spine and matching optional personalisation panel.
You can also select your album's print finish. Opt for either the classic Photographic Lustre option, or add a more luxurious finish with Cotton Smooth.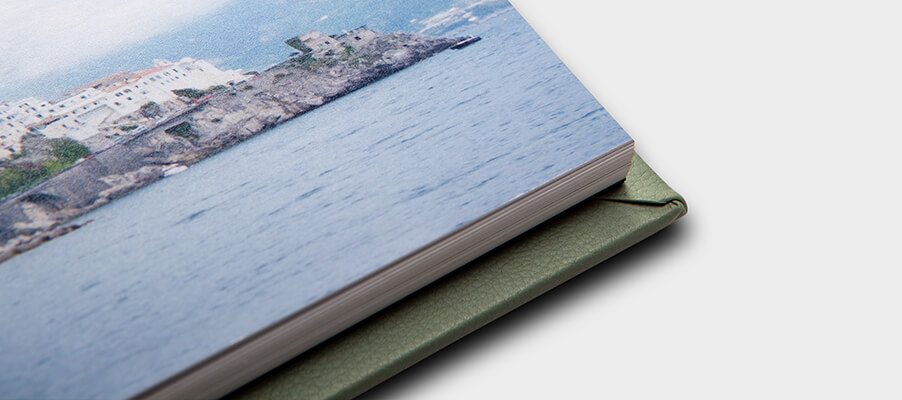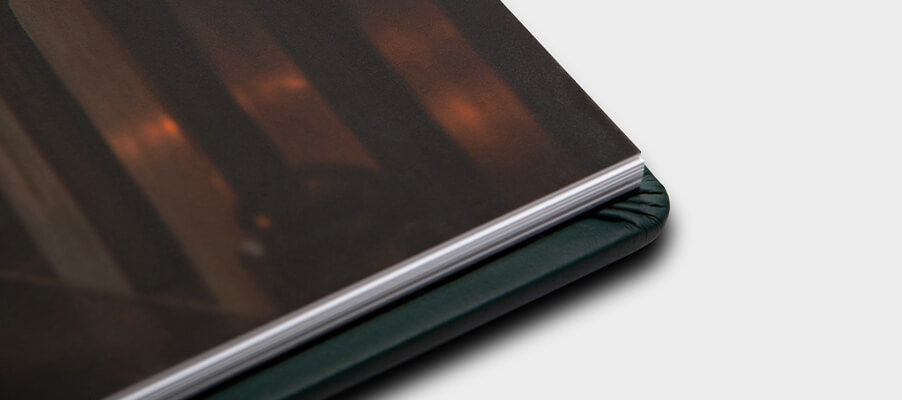 Add on sleeves, boxes and more!
If you're really looking to create a showstopping wedding photography package there are so many unique matching products that you can add alongside the Bellissimo Harris Tweed. The new Album Box has so many different cover style and colour options for you to coordinate or contrast with the Bellissimo Harris Tweed cover.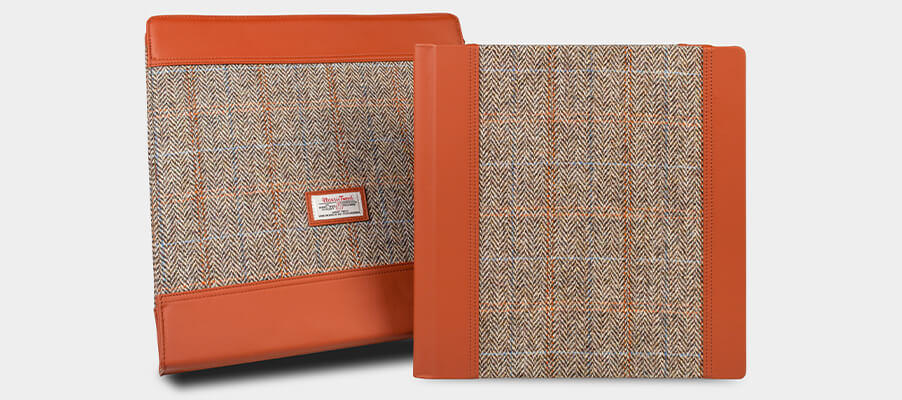 The Album Box is a presentation box with a protective padded interior which can be designed in a selection of subtle materials and colours. Everything right down to the ribbon colour can be selected with this box, and you can even add a matching personalised USB stick.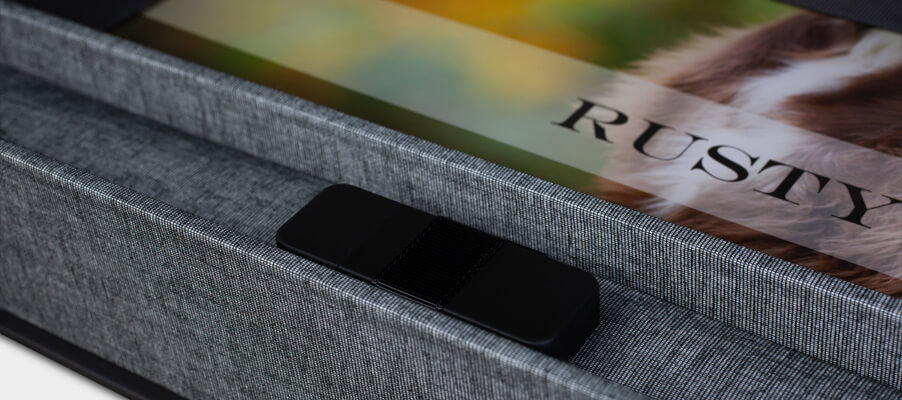 If you're looking for a full Harris Tweed package, then consider adding on a matching Harris Tweed Sleeve and Bag. These two items are available in the same colours as the Bellissimo Harris Tweed.
Bellissimo Harris Tweed Downscales
You can add up to eight downscale photo books to the Bellissimo Harris Tweed photography package. Downscales are great for offering to clients who have large families or wedding parties.
Each Bellissimo Harris Tweed downscale can be designed to closely match the main album. Impress clients by presenting them with a fully matching photography package, consisting of their main album and a series of smaller, matching downscales for them to pass along to parents or members of their wedding party.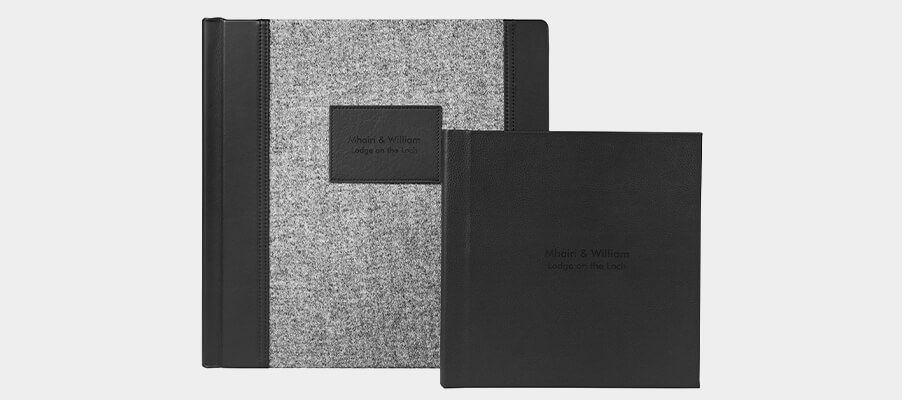 Isle of Harris
Located in the Outer Hebrides of Scotland, this dramatic island is connected to the Isle of Lewis and features stunning mountains, beautiful beaches and striking scenery.
Harris Tweed is a traditional Scottish material which has been weaved on the island for generations. Still hand-woven to this day, it is a high quality material that has since become internationally recognised with its Harris Tweed Authority orb mark.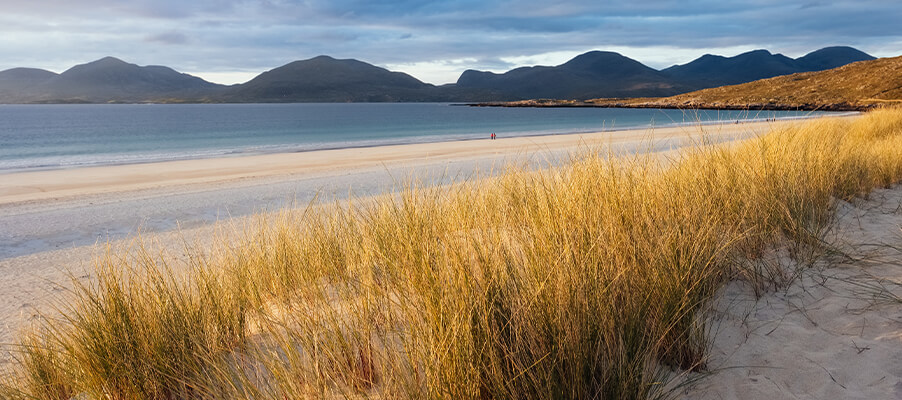 You might also be interested in…
Bellissimo Luxe – A more dramatic and modern luxury album
Bellissimo Matted – The newest luxury album in the Bellissimo collection
Bellissimo Tartan – An alternative, traditional luxury album