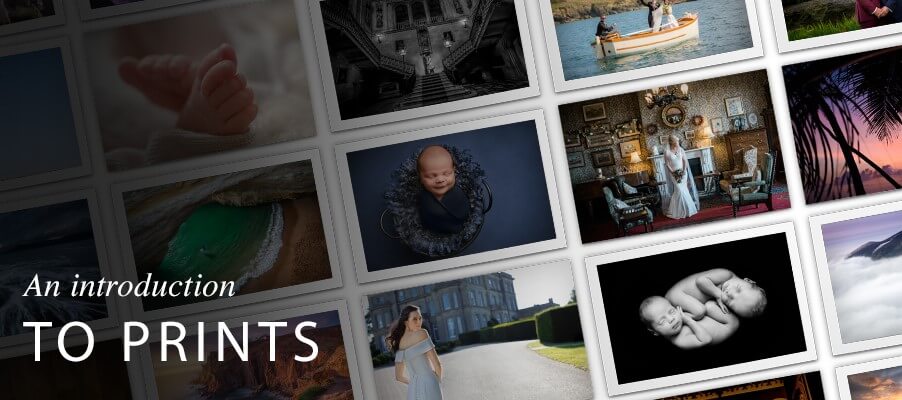 An Introduction to Prints
Prints are at the very heart of Loxley Colour. It's where we started over 30 years ago when we pledged to supply professional photographers with high quality prints and products. The quality of a print can say a lot and can complement your photography beautifully. The type of print finish you choose can depend on a lot of things: your photography style, the budget of your clients and the type of photography package they're included in. All these factors can help you determine what print finish is best for your images and your business. If you're not familiar with what we have to offer, let us give you a brief tour of our beautiful print collection.
Photographic Prints
With papers from Fujifilm and Kodak, you can create classic prints or prints with a modern flair with these four finishes. Custom sizing is available with Photographic Prints, meaning you're free to create the precise size you need or want! Choose from our selection of mounting and laminating options to add more protection and durability to prints.
Giclée Fine Art Prints
Perfect for high-end clients, this selection of quality, tactile fine art papers come from some of the leading names in the industry such as Hahnemühle, Fujifilm and Epson. Custom sizing is also available with each of these eight paper types so you can create prints to exactly suit yours and your clients' needs. The wide range of paper types in this fine art collection means you can select a paper that perfectly complements your image. Discover these beautiful thick papers with a range of different and unique textures. Build a fine art photography packages for clients looking for a touch of luxury.
Matted Prints
For a classic, professional look, Matted Prints offer a perfect solution. Choose a print finish from our Photographic or Giclée Fine Art papers and surround your image with a beautiful 3mm mount overlay. There are 12 popular mount colours to choose from with Matted Prints, suiting a range of special occasions. Matted Prints are available in nine popular sizes ranging from 10×8″ to 16×12″.
Packaging & Presentation
Build your photography packages up and then present them in stunning fashion with Boutique Packaging. Available in a selection of popular colours with matching ribbon options, this is a great way of adding a special finishing touch to your photography packages. We also have a selection of unique and creative ways to store and display your prints. Fun package add-ons such as the Mini Print Box mean you have endless choice when it comes to creating packages for all your clients.
Print & USB Combinations
At Loxley Colour, we let you offer clients the best of both worlds with print and USB combination products. These innovative products let you provide clients with a beautiful, tangible keepsake for featuring professional quality prints as well as a USB stick full of their images from the shoot. Our Print & USB Box and Print & Wooden USB Box give you a wonderful package option to suit any occasion and any budget.
You might also be interested in…
Film Scanning – Learn more about our film scanning service. Framed Prints – Traditional displays to suit every clients. Colour Correction – Discover everything you need to know about this FREE service.